Rasputin
The enigmatic spiritual power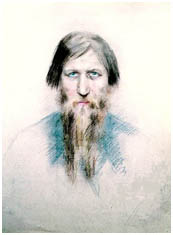 All Rasputin witnesses mark amazing strength of mind which was on the starets Grigory. Its fine, surprisingly blue eyes very much reminded John Kronshtadtsky's eyes. In them did not dare to look, especially liars, speculators and crafty people whom Grigory the just eye saw, clearly.

The simple description of a session of the healing spent by the aged man for future murderer Jusupov, shows that force which blissful Grigory used, has been given him from God.

"The prince sees light which is starting with eyes "the malicious genius of Russia", frightening it through the sick, sincerely injured being" - wrote a witness of that event.

Other example - accident with Anna Vyrubova. Hardly live, she has been pulled out from under fragments of the derailed train. After survey the court doctor has told that she is hopeless, and here there will come an agony soon.

To the place of accident, having left all affairs, Grigory has come briefly. "Will live, - he has told, hardly having looked at the broken, hardly breathing woman, - only remains the cripple".

Source: Nikolay Kozlov "IN MEMORY OF THE AGED MAN"