Rasputin
Rasputin and "rasputinki"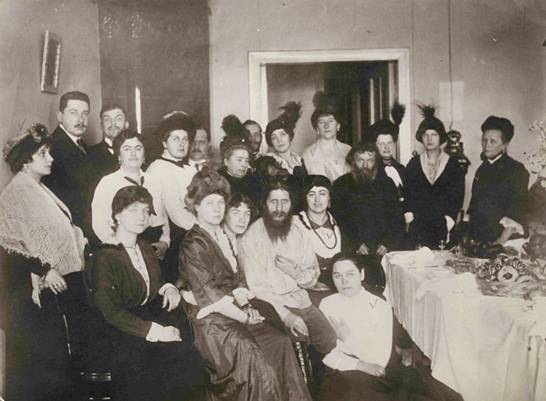 In St. Petersburg a circle of its zealous fans was formed around Rasputin where ladies of Petersburg' light and a twilight entered. They idolised him and have made the whole retinue, having received the name "rasputinok" (rasputinettes)

"Who is given to this God, itself becomes divine, adjoining to its body!" - Olga Lohtina, the wife of the state adviser declared.

The apartment of aged man Grigory in the house 64 by Gorokhovaya street where he lived, has turned to a combination of an office and a brothel. ".

Since early morning till the late evening applicants crowded in a hall, and noisy feasts with plentiful drinkings often happened in rooms, often developed to real orgies.

Practically at any moment it was possible to find Rasputina in a hall, surrounded with his "schoolgirls".

One of them usually sat in a lap of him, and the aged man whispered in an ear something about "mysterious revival" and rescue through a sin.

Then he started to sing, the song was picked up by the present. Soon all started to dance a wild and mad dance.

Then the "trips" to the Grigory's "study" where there was "inner sanctum" began. Rasputin usually used such words showed the door to the lady: "Well, well, mother, everything is all right".

However, contrary to general opinion and variety of myths, real Rasputin at all was not that sexual car which try to present it.

Grigory invariably insisted on the "indiffirency", saying that to it is indifferent to him, to what to lean - "to a woman or a block".

"Has come - has begun to whirl... Has passed - will come again, will begin to whirl and will release and is not present in it for me either a sin, or pleasure", - here a word of Rasputin which he liked to repeat.

Source: Nikolay Kozlov "In memory of the aged man"