MYSTICS OF PETERSBURG
Famous masons: Kheraskov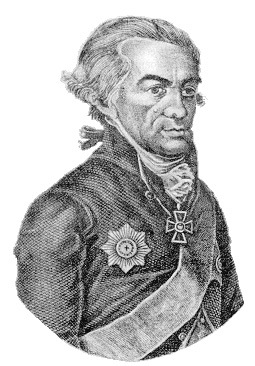 Kheraskov was one of the most active masons of the end of a XVIII-th century. He has received dedication in 1775 in one of lodges of Rejhelevsky system, in 1780 as the charter member he took part in works of secret Novikov lodge "Harmony", then at the moment of creation of independent Russian Masonic board has become a member of Capitul of VIII Province and has entered in the same year into the Gold-pink Cross Orden.

All of this testifies to that wagging which it had on Masonic activity in Petersburg.

About an accessory of M.M. Kheraskov's to the Masonic brotherhood tells also its literary works. In 1768, even before the dedication he writes the story "Numa Pompily, or the Prospering Rome" to which premises an epigraph: "To remember all mortals that they brothers an essence!".

His sights (he was a person mild and humane), quite corresponded to those moral ideas which the Masonic brotherhood aspired to extend. Its acceptance in the Brotherhood only has strengthened them.

Almost all works of Kheraskov - a mystical poem "Vladimir", and an ode "To God", and verses "To the big Masquerade" - are united by one idea, in all is told about sacred dedication, the Golden Age of Astrei, a sacred temple etc.

Besides it Kheraskov has created the Free Noble board, played a bright role in the history of Russian educations, he took part in establishment of Pedagogical seminary, Meeting of University pupils, and the Friendly Scientific Society.

All these organisations connected university with wide layers of the society and transformed it into the establishment meaning more than simply temple of a science.

Till an old age Kheraskov has kept unknown freshness of spirit. Through his influence have passed three literary generations. Derzhavin and Fonvizin, Dmitriev and Karamzin, Merzljakov and Zhukovsky - all of them has been keen in moral height and idealism which Kheraskov has brought to the literature.

Source:
The historical encyclopaedia "the Freemasonry and masons: three centuries in Russia".