CITY LEGENDS
A monument to Pushkin in Pushkin street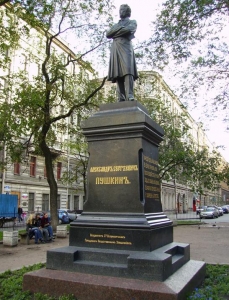 Once before the last war (WWII)a strange decision to move this monument to another place was taken. The truck with crane arrived to Pushkin street and people in work wear tried to start to fulfill this plan. It was in the evening and children played around the monument. Suddenly they started shouting aloud with exclamations: "It is our Pushkin!" Also they have surrounded a pedestal, disturbing the beginning of works.

In confusion one of workers has addressed to the city heads by the nearest street phone. On the other end of a wire long silent was, probably estimating an unusual situation.

At last, with words: "Ah, leave it their Pushkin!" - a buroucrat have hung up.

Originally the monument installation site had been selected in the Aleksandrovsky garden, before a front entrance to the Admiralty.

But the destiny has disposed differently. Round a monument always many children, and Pushkin, certainly, happy to see them.

Source: N.A. Sindalovsky "Legends of St. Petersburg"